Comstock Grizzlies
THE ORIGINAL GAY BEARS OF RENO NEVADA

"If you are going to be a bear, be a grizzly"

To all the members and friends of the Comstock Grizzlies: As we enter into our second month on Covid-19 quarantine and social distancing, I hope this message finds you, your families and friends in good health.It has been 2 months since we were able to have our Meeting / Pot Luck. I know I have missed all of us getting together. I am hopeful it will not be too much longer before we can resume normal activities. It might be gradual but I am sure it will happen.With any luck we will be able to have a May Meeting / Pot Luck. Fingers crossed that would be Saturday May 16th. But I we will have to see how the self-quarantine rules progress.
All our best to you all,
Nathan and Ken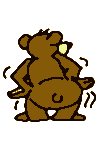 All Members and Guests Welcome

If you have questions
Contact Nathan @ 775-358-2285
Please leave a voice mail with your contact information.
Lots of web updates please take a look around
Please Visit and LIKE US on our Facebook Page.

To join our Yahoo Group, subscribe below
By registeing on our Yahoo group you will be kept informed
of group planned activities
All of our activities are OPEN for GUEST to attend. Club dues are not required.
We encourage you to check out the group before deciding to become a member.
Either way you are always welcome to join in any of our scheduled activities.
Home Page About Us Contact Us Calendar New Member Application Members Links
These pages are the property of the Comstock Grizzlies of Reno, NV
1997-2007 by the Comstock Grizzlies.
Last updated 04/21/20