Comstock Grizzlies

THE ORIGINAL GAY BEARS OF RENO NEVADA

"If you are going to be a bear, be a grizzly"

Next meeting
Saturday November 18th @6:00pm
Carl's Pub
Reno, NV
Meeting and Dessert Night Meet and Greet.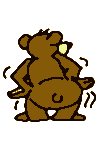 All Members and Guests Welcome

Lots of web updates please take a look around
Please Visit and LIKE US on our Facebook Page.

To join our Yahoo Group, subscribe below
By registeing on our Yahoo group you will be kept informed
of group planned activities
Home Page About Us Contact Us Calendar New Member Application Members
New Photos 08-2015 Older Photos Links
These pages are the property of the Comstock Grizzlies of Reno, NV
1997-2007 by the Comstock Grizzlies.
Last updated 11/01/17