Comstock Grizzlies
THE ORIGINAL GAY BEARS OF RENO NEVADA

"If you are going to be a bear, be a grizzly"

Next meeting

Saturday October 20th @ 6:30 pm

Was to be at Nathan and Ken home but

Tim called and volunteered his new place of

residence. Paul is welcoming us into his home.

Address to be provided in the Club Email notification.

Or contact Tim at 775-338-9804

Theme of the meeting to be Finger Food

Sounds like fun. See you there.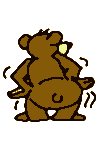 All Members and Guests Welcome

Lots of web updates please take a look around
Please Visit and LIKE US on our Facebook Page.

To join our Yahoo Group, subscribe below
By registeing on our Yahoo group you will be kept informed
of group planned activities
All of our activities are OPEN for GUEST to attend. Club dues are not required. We encourage you to check out the group before deciding to become a member. Either way you are always welcome to join in any of our scheduled activities.
Home Page About Us Contact Us Calendar New Member Application Members Links
These pages are the property of the Comstock Grizzlies of Reno, NV
1997-2007 by the Comstock Grizzlies.
Last updated 10/09/18